The Bopcats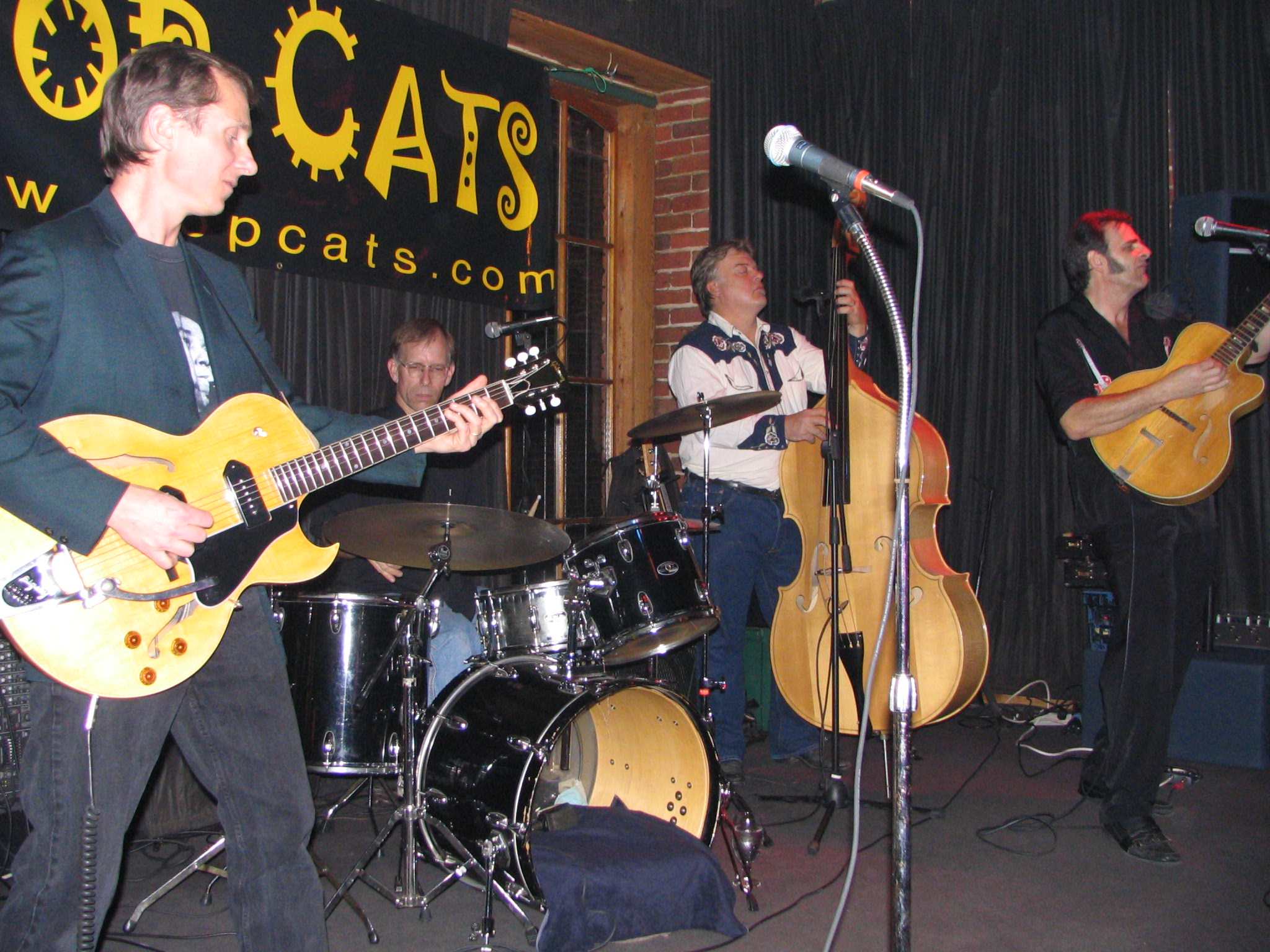 Photo by Angie Castlebury - RTD
Band inspired by the '50s : Bopcats want the artists of that decade to be remembered - Richmond Times-Dispatch Nov 25, 2004
The Bopcats swung into The Tobacco Company, 1201 E. Cary St., on Nov. 17 and performed three sets of rock'n' roll from the '50s.
As the band imitated some of the decade's most influential artists, the audience danced, sang along to the familiar tunes and seemed to step through a time machine to arrive in the'50s at a sock hop.
Straightforward drum beats, walking bass lines and light guitar strumming combined to create the rockabilly toe-tapping sound of the decade the band said it has worked to emulate. Rogers, Fralin and Hammond took turns as lead singer with songs such as "Heartbreak Hotel" by Elvis and "Great Balls of Fire" by Jerry Lee Lewis.
The band members said a love for the music is what fuels them to learn and play songs from decades ago. They remember the music being important to them in their youth and do not want people to forget the artists who have shaped what music is today.
"Most all of us were very small when this music was out but we still remember it," Rogers said. "I remember seeing Elvis on TV. There's just this general excitement to this era of music."
Why do you choose to play music from the '50s? "I love it personally," Rogers said. "The main reason that I like it is because it makes me move. I can't dance at all. I'm a terrible dancer, but you got to be dead if you don't tap your toes to this stuff. It just gets in my bones. I just find it to be the most exciting music there is."
Why do you play mostly cover songs? "We play a few originals," Rogers said, "but there are so many of these great covers. We can write some songs but with this era of music you're still gonna wanna play 'Blue Suede Shoes.'"
Why do you think it's important to expose people to musicians from the '50s? "'Cause most of the artists that we cover were fabulous," Rogers said. "They were great artists. They were great musicians and they wrote terrific music." Fralin said the music they wrote stands the test of time. "I don't get sick of these songs whereas a lot of modern stuff is interesting, but how many songs written in the past 20 years really stick in your head after they're 15 years old."
How do you think audiences connect with the songs you play? "We thrive on feedback from the crowd whether they're laughing or dancing," Fralin said. "A lot of young people like the older style because there's a lot of depth to the songs." Rogers said they have wide range of people who come to the shows, including people who grew up with the music. "There's a lot of nostalgia involved. They remember these songs from their youth and there's a lot of happiness involved in that."
What can people expect to see at your live show? "They can tell we love this kind of music," Rogers said. "We put our heart and souls into it. We hope they like it and hope they appreciate it. They can tell we're not up there doing it just to try to please someone else. We're doing it to please ourselves" - Angie Castlebury -